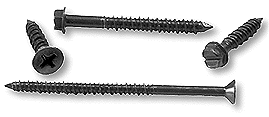 Tapper™
The Tapper™ anchoring system is a family of screw anchors, specially designed drill bits, and installation tools designed to meet the needs of most light to medium duty applications in concrete, block, and brick. Available in both a hex head or flat Phillips-style head. Stocked in diameters from 3/16", 1/4" and 3/8" (not shown in table) and lengths from 1 1/4" to 6". Available in stainless steel.
Group codes Represented: TAPPER
Part# Example: 2712R

Tapper™ 1000 Tool
This special two-step tool for installation of HWH and PFH Tappers™works for tappers up to 4" long. We also carry the 1000 SDS Extension, for use with SDS Hex Bits or with the 1000 Tool; and the Condrive® 2000 for one-step installation of Tappers™ HWH up to 2 3/4" long.
Group codes Represented: TAPERT
Part# Example: 2600R, 2645R
Tappers™ - Concrete Screws

D x L

Drill Bit

Minimum Embedment

Maximum Embedment

Maximum Fixture Thickness (inches)

Ultimate Tensile Strength (lbs.)

Ultimate Shear Strength (lbs.)

Ultimate Tensile Strength (lbs.)

Ultimate Shear Strength (lbs.)

Screw Size (dim. x length)

3/16 x 1 1/4

5/32 x 3 1/2

1

1 3/4

0 - 1/4

581

852

357

731

3/16 x 1 3/4

5/32 x 3 1/2

1/4 - 3/4

3/16 x 2 1/4

5/32 x 4 1/2

3/4 - 1 1/4

3/16 x 2 3/4

5/32 x 4 1/2

1 1/4 - 1 3/4

3/16 x 3 1/4

5/32 x 5 1/2

1 3/4 - 2 1/4

3/16 x 3 3/4

5/32 x 5 1/2

2 1/4 - 2 3/4

3/16 x 4

5/32 x 5 1/2

2 1/2 - 3

1/4 x 1 1/4

3/16 x 3 1/2

0 - 1/4

1138

1604

615

1058

1/4 x 1 3/4

3/16 x 3 1/2

1/4 - 3/4

1/4 x 2 1/4

3/16 x 4 1/2

3/4 - 1 1/4

1/4 x 2 3/4

3/16 x 4 1/2

1 1/4 - 1 3/4

1/4 3 1/4

3/16 x 5 1/2

1 3/4 - 2 1/4

1/4 x 3 3/4

3/16 x 5 1/2

2 1/4 - 2 3/4

1/4 x 4

3/16 x 5 1/2

2 1/2 - 3

1/4 x 5

3/16 x 6 1/2

2 1/2 - 4

1/4 x 6

3/16 x 7 1/2

2 1/2 - 5