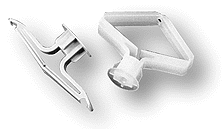 Poly Toggle® Screw Anchors
This is an example of a Mechanical Anchor. We carry a variety of conventional drilling and anchoring systems, each of which is different in its method of taking the applied load and transferring it through an anchor to the base material. Each type is designed for a specific application. Among these types are Cast-In-Place, Drilled In, Friction, Clamping, Compression, Undercut and Bonded Anchors.
These economical light duty toggle anchors are designed for use in hollow walls. Made from polypropylene, they are designed to be used with a sheet metal screw for paneling, wallboard, and solid masonry.
Group codes Represented: POLY
Part# Example: 2307R
Plastic Toggle Anchors

Toggle Size

Screw Size

Hole Diameter

Wall Thickness

Tensile Strength (lb.)

Shear Strength (lb.)

Short

8

5/16

3/8

42

85

Long

8

1/2

30

75

10

58

107

Extra Long

8

5/8

50

126

10

79

138

14

83

145